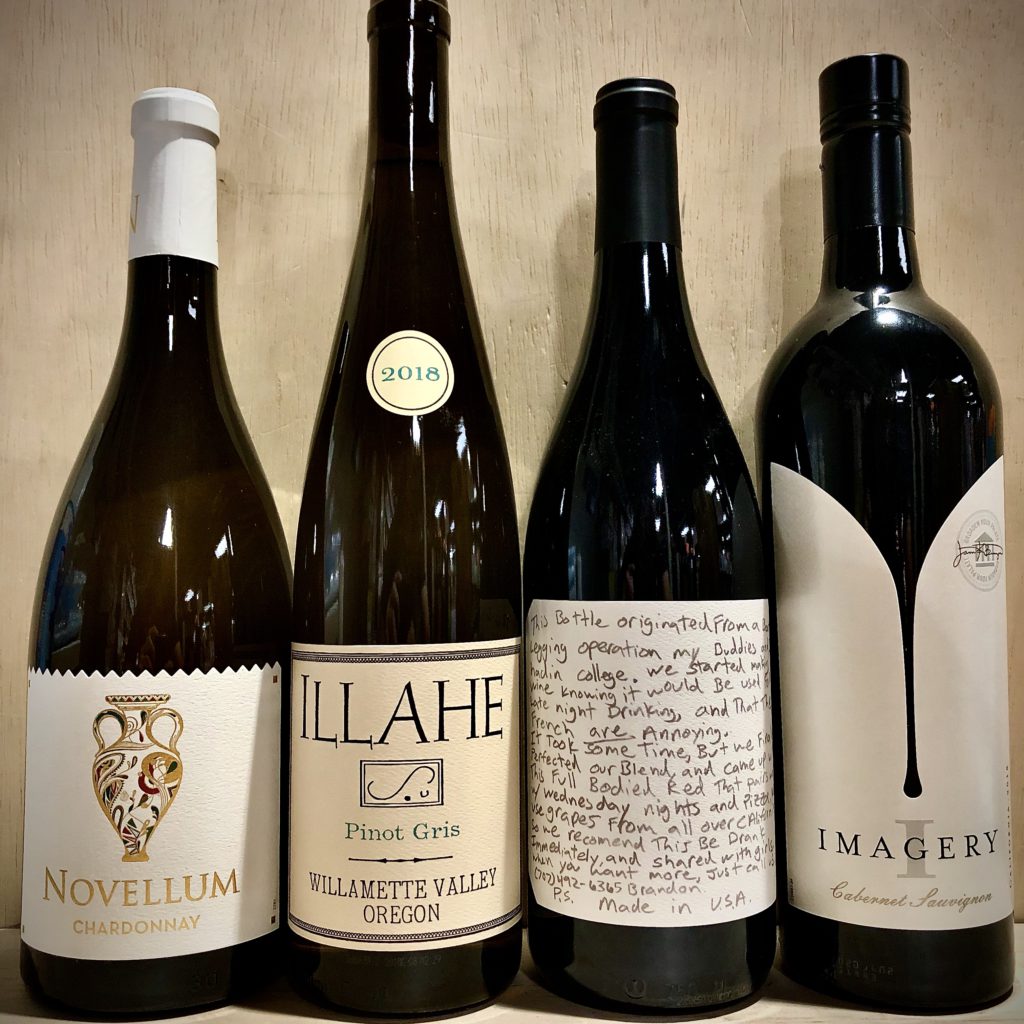 Covid-19 may have put many big and exciting wine tasting on hold, but that doesn't mean we have stopped tasting all together. We are taking all the necessary precautions when trying new wines and have some exciting new ones to talk about today! And don't worry, there are plenty of other unique items coming in each week! If there are any other products you'd like us to start carrying, feel free to let one of our knowledgeable staff members know! We'll be happy to take some information down and find whatever it is you may be looking for! If you have any questions, concerns, delivery, or curbside requests, please give us a call at (303)-730-3102! You can also reach our email [email protected] at any time! 
If you like lightly oaked chardonnay, Novellum is an excellent option for you! For just $13.99, this wine from Eric Solomon is one of the best value wines in the store! It is just about impossible to find a chardonnay for this quality at this low a price. This wine comes from southern France, about two hours west of Nice. This is my favorite part of the world to visit, and I can almost taste the beaches that line the Mediterranean Sea when drinking this. The ripe, fresh fruit notes are supported by those of guava and papaya for a medium to full-bodied Chardonnay with depth, texture, and some length to it. This wine will pair great with fish, white meats, and cheese such as gouda, parmesan, or provolone!
Illahe Pinot Gris out of the Willamette Valley is another super-refreshing white wine we are just now carrying! This wine is much fruitier than Novellum, offering complex fruits with notes of granny smith apple, lemon zest, as well as papaya and starfruit. This wine spends a little bit of time on neutral oak, which adds creaminess and flavors of almond butter. The word Illahe is Chinook meaning "earth," "place," or "soil. The goal at Illahe is to make wine as naturally as possible from soil to bottle. For $19.99, this is by far my favorite Pinot Gris right now! I think this wine will pair best with the heavier fish dishes such as halibut, mushrooms, and even some spicier foods such as curry!
Slo Down Wines is becoming one of my favorite wine producers, both for their comical advertisements but also for the quality of wine they are putting out! If you have not seen one of their commercials, I highly suggest looking them up (as long as no kids are around). We are just now carrying their Sexual Chocolate Red Blend. This blend is one of Syrah-Zinfandel. This is an extremely bold, dry, and slightly acidic blend. I found hints of tobacco on the nose, while black cherry, oak, vanilla, and a bit of chocolate dominate the velvety texture. This is a top-tier red blend selling for $27.99! This wine goes great with your dark meats, I would pair this with a nice steak, but it will also complement lamb, veal, or chicken!
The Imagery Cabernet Sauvignon is one that we had several requests for and were not disappointed once deciding to bring it in! This wine comes from Sonoma Valley and is soft and smooth, with integrated notes of oak. I find many darker fruit flavors such as black cherry as well as clove, cinnamon, and vanilla. This cab is bold, dry, and slightly tannic. This wine will pair similarly to the Sexual Chocolate.
Be sure to stop in and give these new wines a shot! If you have any questions, feel free to ask one of our knowledgeable staff members any questions you may have! And again, if you were not aware, my name is Walker Jones. I am the sommelier that writes all these blogs! I spend a lot of time tasting and writing about wines and would love some customer input on the many wines we carry! Feel free to reach out to me and let me know what you think of our wines!