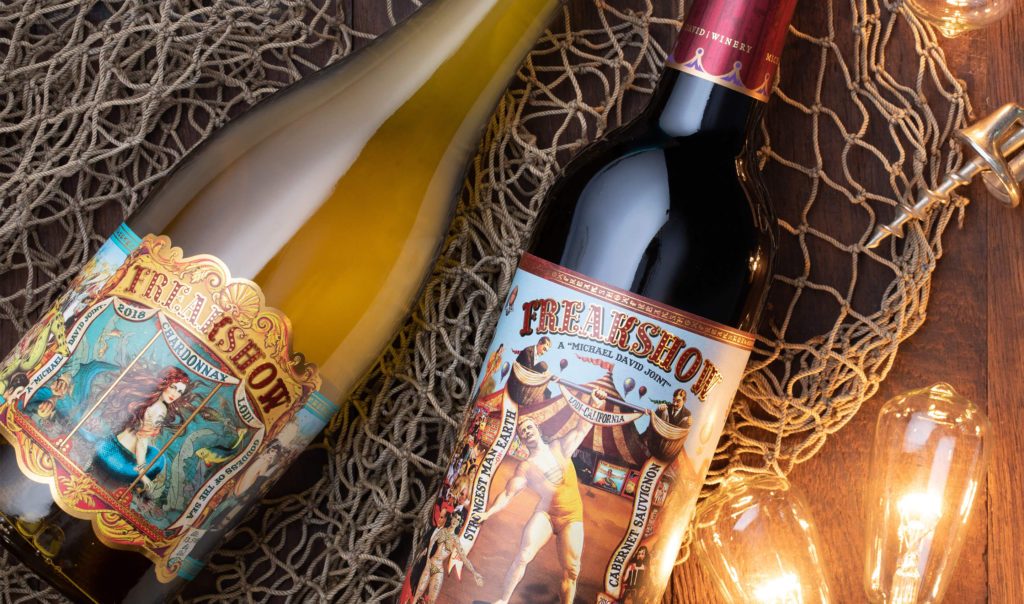 The carnivals portrayed on the front of most of Michael David's wines remind me of the fall and Halloween. In honor of such events, we have spooky good deals on all Michael David .750L bottles this month!
Freakshow Cabernet Sauvignon & Zinfandel are both on sale for $15.99! The cab is big, bold, and full of oak and dark berries with a long, smooth finish. The Zinfandel is big, yet soft with a little bit more sweetness than the Cab. We also carry the Freakshow Chardonnay. The .750L chard is on sale for $12.99! The chard is bold and oaky with lighter notes of lemon and peach.
The images on the Petite Petit are truly that of a carnival. This petite syrah is big, bold, and full of dark berry flavors such as dark cherry and blueberry. Michael David's Sixth Sense syrah is also big and bold, but I find more notes of oak to go along with the dark fruits in this one than in the Petite Petit. Petite Petit is on sale for $11.99 and the Sixth Sense is on sale for $12.99!
Michael David's Lodi Red Blend and Earthquake Cabernet Sauvignon don't have spooky of labels, but they are still really great wines and on sale until the end of the month! The Lodi Red is an easy drinking red with notes of dark fruits and oak. The Earthquake Cab on the other hand, is big and bold with many dark fruits on the palate accompanied with spice, oak, and vanilla. The Lodi Red is on sale for $11.99 and the Earthquake cab is on sale for $19.99. These wines are all some of the best for under $20, definitely must tries!
If you want to venture out and try some of our delicious new wines, here are a couple great ones that we just brought in!
If you're looking for a nice Pinot Noir for a dinner party and you want something with a little more body to it than you traditionally see in American Pinot's, Robert Sinskey's out of Los Carneros, Napa is the one for you. This wine is incredibly smooth, medium bodied, with a dry finish. I was very surprised by the finish on this one. It had a light mouth feel, typical of most Pinot Noirs, and then a complex yet smooth finish. The finish had lots of fresh red fruits as well as smoky oak. For $44.99, you definitely get what you pay for in this wine!
Syrah is my favorite wine grape. I love when I find a good red that has nice fruity notes as well as a good amount of spice and pepper. Domaine Jean-Louis Chave Saint-Joseph Selection Offerus Rouge is just that type of wine. This is a Syrah coming from Northern Rhone, France and is sure to liven up any holiday get together this year. This syrah is bold and dry with a tannic finish. This wine sits on the shelf for $30.99 and will go great with dinner, friends, or both!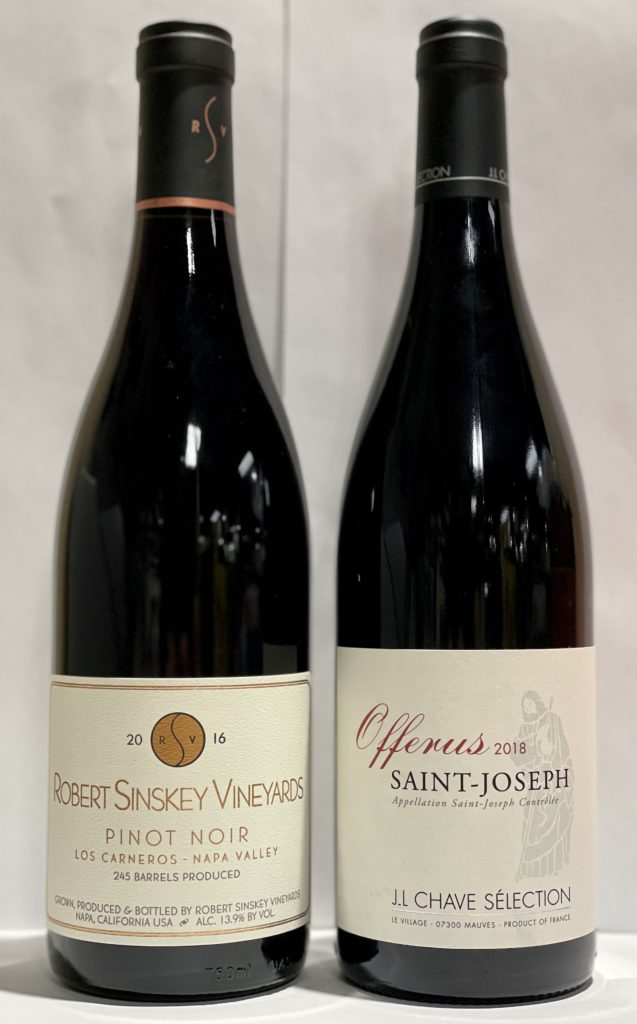 As always, stop on in or give us a call at (303)-730-3102 with any questions or requests.