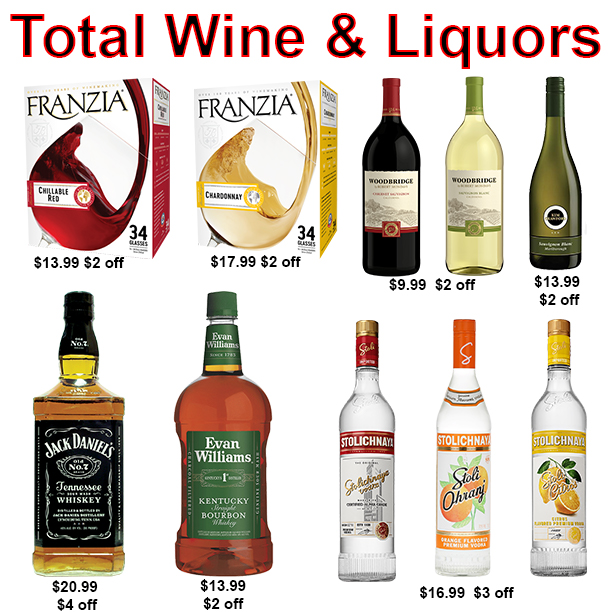 We know these times are tough, and we want to do everything we possibly can to ensure you and your family's safety. As per Executive Order D 2020 138, a mandatory statewide mask order, we require that all customers wear a mask when entering our store. We are still maintaining a strict cleaning regimen and doing everything we can to stay open safely and ask that you help us help you. We also have Curbside pickup and Delivery available!
Throughout July, we have several specials that can help you make the most of social distancing. Kim Crawford Sauvignon Blanc is always a great go-to! The New Zealand wine is on sale for the rest of the month for just $13.99 ($2 off)! We offer this wine chilled if you want to get home and have a glass right away!
All Woodbridge 1.5L wines are just $9.99 ($2 off)! Franzia 5.0L wines are all $2 off! We carry a wide variety of Franzia and Woodbridge wines to satisfy any wine-drinking occasion! These are great value wines, with many of them also available chilled!
If you're a whiskey drinker, we haven't forgotten about you! Jack Daniels Black Label .750Ls are on sale for $20.99 ($4 off)! We also have Evan Williams Green Label on sale for $13.99 ($2 off)!
Stolichnaya .750Ls are also on sale for the rest of the month at $16.99 ($3 off)! We carry the 80p unflavored vodka as well as their Ohranj and Citros flavors.
Budweiser, Bud Light, Coors Banquet, Coors Light, Miller Lite, and Miller Genuine Draft 24-12oz suitcases are also on sale through the end of July for $17.99!
We are super excited to announce that we are now carrying the Dulce Vida Line of Tequila. Dulce Vida produces high quality, organic tequilas. We have their Blanco, Reposado, Anejo, as well as their Rocky Mountain 100 proof Anejo and their flavored tequilas. The flavored tequilas will also be on sale from 7/22 to 7/28 for $21.99 ($3 off)!
Hope you and yours are staying safe! If you have any questions or concerns, please give us a call at (303)-730-3102 or email us at [email protected]