The weather is getting warmer, but our beer is still the coldest in town! With the start of June also comes new monthly specials. I am also going to talk about several new items to the store in this post as well. If there is ever an item that we are not carrying and you enjoy, just let us know! Whether it's a new 6pk you enjoy, or a keg you want to special order for your home kegerator, we're always happy to help!
Throughout these last few months we have definitely seen an increase in boxed wine sales. Boxed wines are a great option for large get togethers or when you don't quite feel like opening an entire bottle of wine and want to save some for later. The increase in quantity sold has also come with an increase in quality of wine being put out. Pepperwood Grove 3.0L's have become one of my new favorite boxed brands. The 3.0L is the equivalent to four bottles of wine. Their boxes are 100% recyclable and use materials certified by the sustainable Forests Initiative. On top of being good for the environment, I really enjoy the taste of these wines. We carry Pepperwood Grove in a Pinot Grigio, Cabernet Sauvignon, and Red Blend. These 3.0L's are $3 off all month long at just $15.99!
Butternut Wines are another great wine option for this time of year! Their Chardonnay is rich and complex with a creamy texture and honey hues. If Chardonnay isn't your varietal of choice, their Rose is drinking amazing this time of year! The Rose has several strawberry and grapefruit flavors with a crisp, acidic finish perfect for this hot weather! And if you're in the mood for a red wine, they've got you covered with a Pinot Noir if you're in the mood for a lighter red, and a Cabernet Sauvignon if you're looking for a more full-bodied red. All Butternut wines are on sale for the entire month for $9.99 ($3off)!
After a long day in the sun sometimes there is nothing more refreshing than a nice cold beer! To help satisfy your beer needs we have put all Dry Dock 6pks on sale for $8.99! Dry Dock is an amazing local brewery that has a type of beer to satisfy whatever your beer drinking need may be that day! All Corona Extra and Light 12 pack Bottles and Cans are also on sale or the entire month at $14.99!
Knob Creek Smoked Maple is a new one we just brought in this week. The bourbon is very unique with smoky and sweet all in one bottle. Their bourbon is blended with smoked apple flavors for a full-bodied bourbon with a smooth finish. This Bourbon is on the shelf for $29.99!
If you're in the market for Vegan or Certified Organic wines Les Hauts de Lagarde out of France has you covered! These Bordeaux wines come in a red, white, and rose. The red has many dark fruit flavors, a medium body, and earthy finish with many structured tannins. The White is a refreshing blend of Sauvignon and Semillon. The White is fruity, dry, and crisp all in one. And if Rose is your preference, this wine is refreshing and lively. These wines are priced at $14.99 and are definitely worth the money!
We are always bringing in new options for you to check out and also rotating through weekly sales on top of the monthly ones! Be sure to stop in and take advantage of these awesome offers!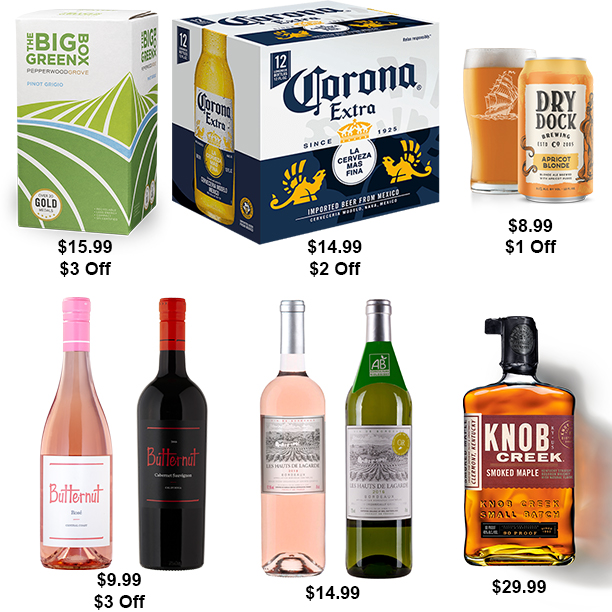 June Sales & New Inventory